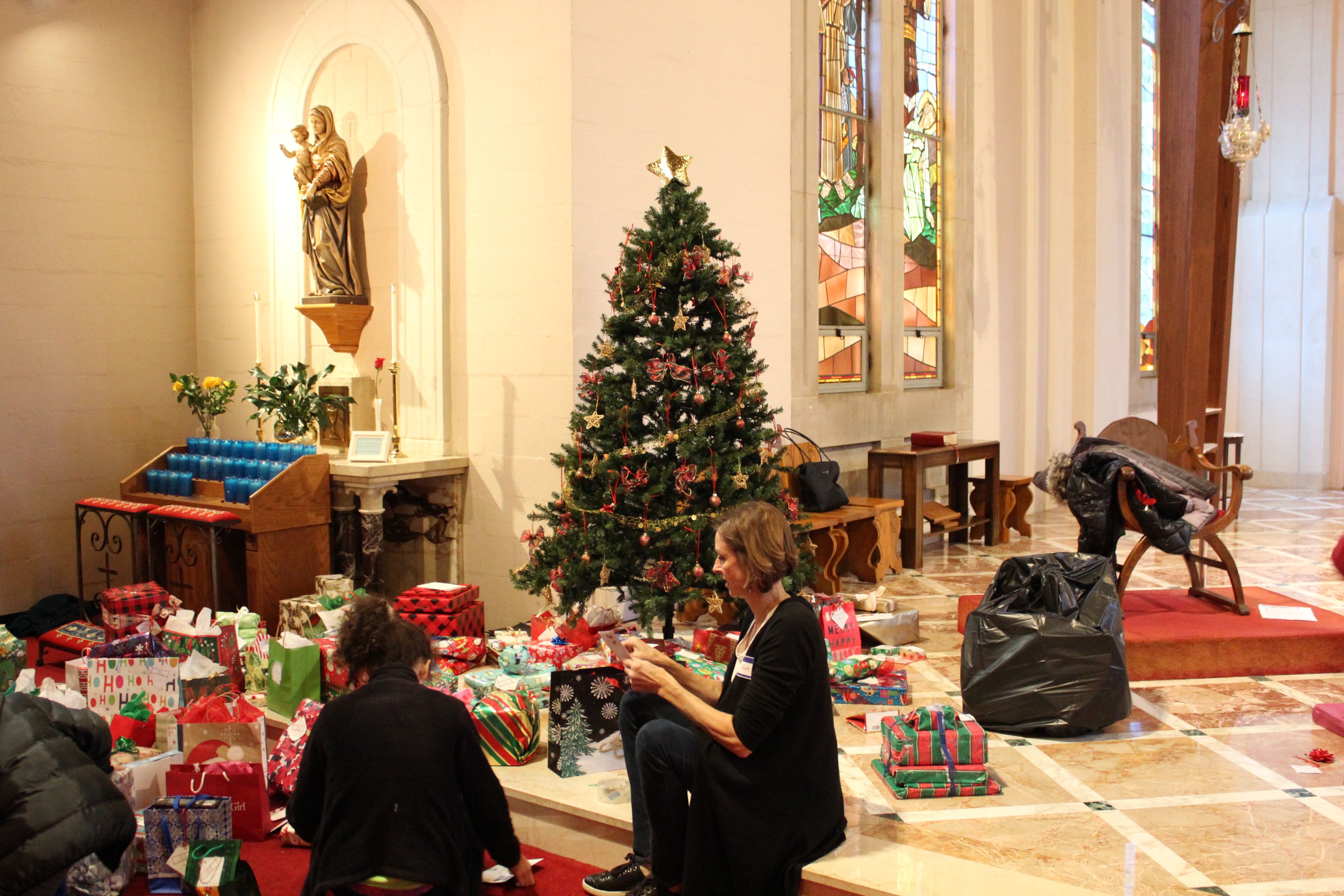 Giving is central to holiday traditions, and The Arc Montgomery County has been the grateful recipient of a local church's holiday giving for many decades.  Holy Cross Catholic Church sponsors an annual Giving Tree as a community outreach project which has run for 30 years now.  According to Colleen Scanlon, a longstanding organizer, The Arc Montgomery County has been a partner and recipient of this program for as long as she remembers—and likely for the life of the program.  
Giving Tree programs connect with local organizations to find people in need during the holiday season. Are there families who can't afford to put gifts under the tree?  Are there children whose basic needs, like new shoes or winter coats, aren't being met?  Families who will struggle to put a holiday meal on the table, or elderly who may have needs that are overlooked, and these are the people that Giving Tree is reaching out to help.  
Once Holy Cross has compiled a list of names and suggested items needed, a committee member organizes those requests into "tags" that are hung on a Christmas tree at the church.  All recipient tags are anonymous, but families can choose recipients off of the tree based on age, need, etc.  Scanlon notes that young families often search for young children to shop for—because it hits them close to home and their own children love helping another child. 
Purchased gifts are brought back to the church and sorted for pick up by the partnering agencies.  The process takes a lot of manpower, but it runs very smoothly.  And it's a tradition that has deep running roots in the Holy Cross community.  Weltha Logan, who recently celebrated her 90th birthday, founded the Giving Tree drive at Holy Cross.  Until very recently, she was a driving force behind each yearly effort.  Her enthusiasm for the holiday outreach program was contagious, and there are many volunteers and families in the church who say it is one of the touchstones of their holidays.
Scanlon reflects that her children looked forward to it every year.  Now that she has grandchildren, they are also eager participants.  It has become a family favorite.  It's the sort of tradition that not only does good for the larger community, but it boosts holiday spirit within the church community—it just feels good to reach beyond yourself during the busy season.
The recipients who benefit at The Arc come in all sizes—young children, youth, and adults.  The gifts received also come in all forms: a scooter, books, clothing, or certificates for exercise classes or a meal out.  The gifts are tailored to the needs of the individuals—which gives this outreach a very personal touch.  For the people we support, these gifts make a real difference.
Here at The Arc Montgomery County, we have a lot to be grateful for, and the kindness and generosity of Holy Cross Catholic Church sits high atop our list.