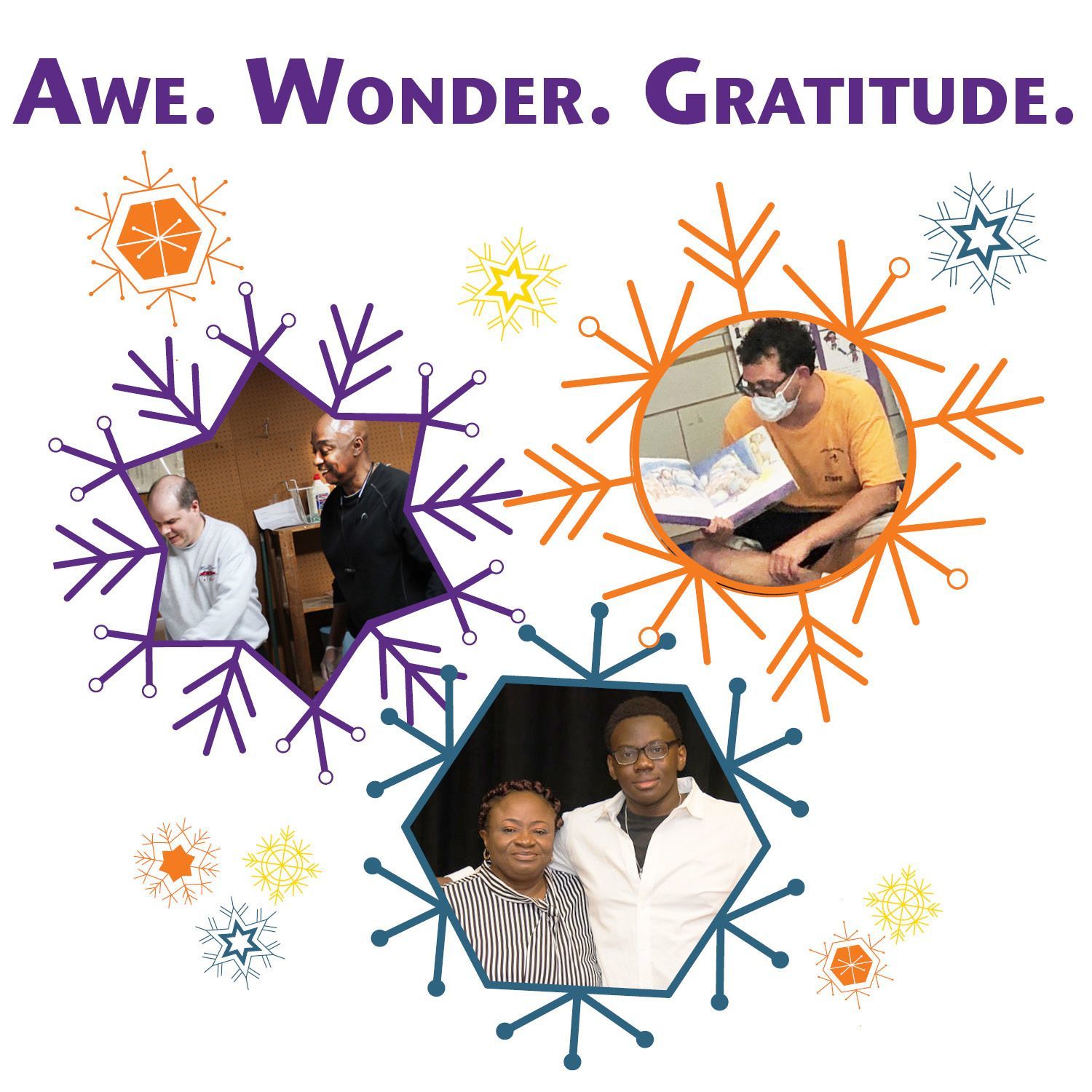 Awe. Wonder. Gratitude.  This is the theme of our year-end appeal and I can't think of three better words to sum up 2020 at The Arc Montgomery County.
I am in awe of our staff at all levels who pitched in and helped out when and where needed. 
Support Professionals donned PPE and reported to work to provide support to people in their homes, at work and in the community.  They took temperatures, watched for signs and symptoms of illness and kept the people they support calm under stressful circumstances.  They supported people who unfortunately contracted COVID-19, putting themselves and their own families at risk. I will never forget a Zoom meeting and seeing 20 or so DSPs in different homes wearing, masks, face shields, gloves and gowns.  It was truly awe inspiring.
Administrative staff became experts in Zoom so virtual supports could be provided.  They became savvy shoppers to ensure we had adequate supplies of PPE, food and even toilet paper.  They quickly developed efficient ways to ensure supplies were delivered to our homes. They became amateur contact tracers and infectious disease specialists to mitigate the spread of the virus.
Childcare staff developed online learning plans practically overnight when we were forced to close our centers.  They made videos, created family focused activities and ensured children and youth continued to learn from home.  When we were able to open the centers, they learned new sanitizing techniques and developed lesson plans that included mask wearing and social distancing. 
Urban Thrift staff took advantage of the store closure with remodeling and reorganizing.  They were finally able to sort through all of the donated items that had piled up in the store room.  When the store was able to open again, they put on their PPE, counted the number of customers in the store and still delivered outstanding customer service.
Each and every staff member of The Arc, regardless of their role, played a part in keeping the organization moving forward during tumultuous times.
I wonder at the remarkable way the people we support have handled the pandemic.
Overnight, longstanding routines were broken.  Adults used to going to work or other activities each day were suddenly forced to stay home.  Children and youth were no longer going to school and seeing their friends and teachers.  The staff who worked with them were suddenly wearing masks and face shields, yet most took it in stride. 
Technology became their link to the outside world.  Children and youth went to school online and adults video chatted with friends and family.  Day programs for adults offered virtual tours of exotic locations and online opportunities to learn new skills.  For many people supported, this was the first time technology became such an important part of their daily lives.
Housemates have kept each other entertained during months of staying at home.  A senior citizen reminded me we all need to wear masks to keep each other safe.  Children take the temperature of their toys. The people we support have been caregivers to each other and to us all.
I have immense gratitude for many things during a year in which it was not always easy to be grateful.
Volunteers mobilized to prepare and deliver meals to our homes. Others delivered PPE and household supplies. Some continue to donate groceries and meals on a weekly basis.
Donors have contributed hard-to-come-by PPE.  Monetary donations for our COVID-19 relief fund filled a gap caused by the unanticipated expenses caused by the pandemic.  Board games, books, art supplies and more were donated so people supported who were at home could stay engaged.
Board members have been invaluable for a number of issues, including reputable sources for PPE, fundraising and being ambassadors for The Arc.  They have served as a sounding board as we have navigated the choppy waters of the new normal brought about by the pandemic.
The families of the people we support have been patient, understanding and gracious.  Many have taken time out of their busy schedules to participate in Zoom meetings with staff so they can stay up-to-date as the pandemic led to changes in service delivery.  Families have asked what they could do to help.  They have been understanding as childcare centers had to close and as we had to limit visits to our homes.  They have been kind and they have been generous.
This has been a trying and difficult year for everyone yet we can all see experience awe, wonder and gratitude if we try.  As we move into 2021, I hope we will see an end to the pandemic, a return to in-person visits and school without masks.  I also hope we will not lose our sense of awe, wonder and gratitude.
—Daria Cervantes, Interim CEO
Please help us continue supporting our employees and the people in their care by making a contribution now.  Just click here!