Transitioning Youth ~Virtual~ Resource Fair
Saturday, November 14, 2020, 10 am-3:30 pm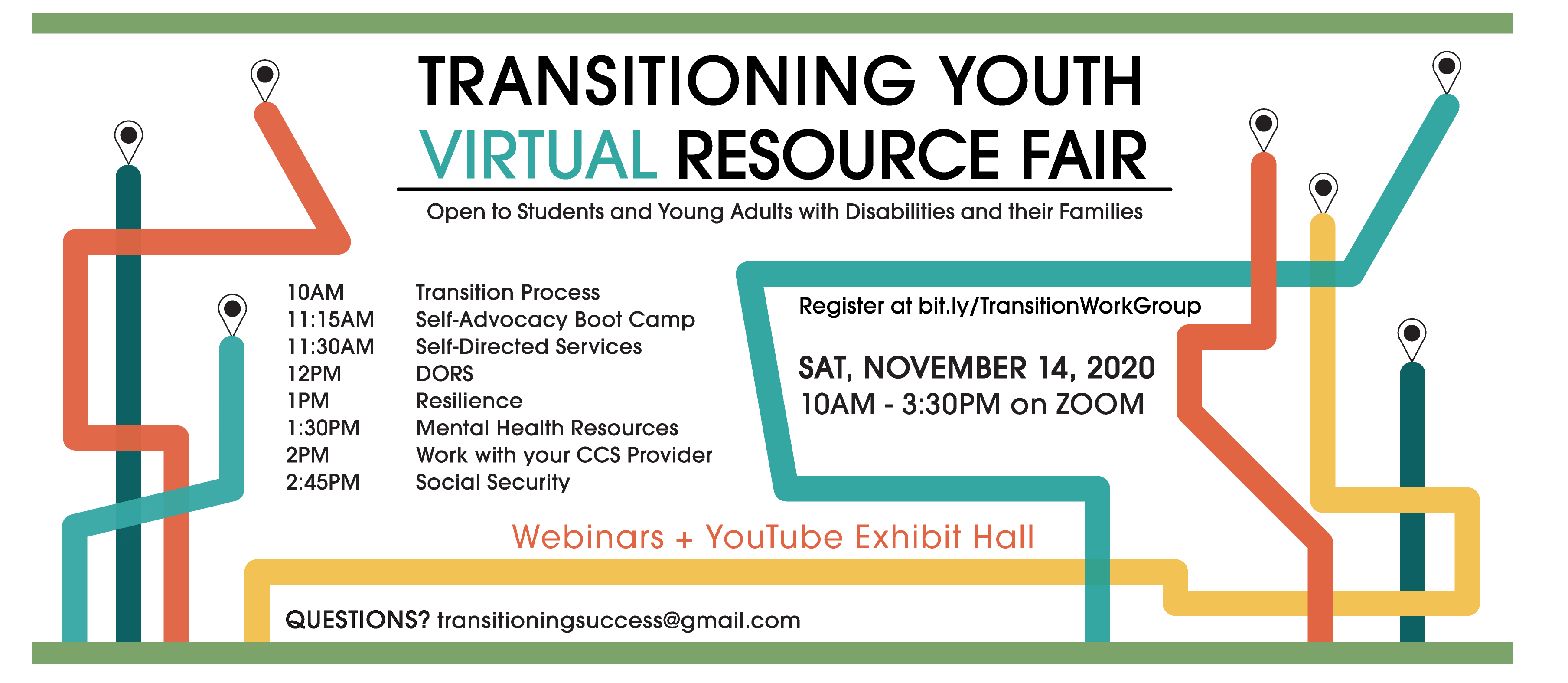 All Sessions Provided Through Zoom
Schedule
10-11 am...Welcome/Bienvenida; Transition Process/Proceso derigido de la Transición 
11-11:15 am...Entertainment Breaks/Intermedio
11:15-11:30 am...Advocacy Boot Camp with Adrian Forsythe/Audo-Defensa 
11:30 am-12 pm...Figuring Out Self-direction/Encontrando la Auto-direccion 
12-12:30 pm...Maryland DORS  
12:30-1 pm...Break for lunch/Intermedio 
1-1:30 pm...Isolation and Resilience/Isolacion y Resiliencia 
1:30-1:45 pm...Mental Health Resources/Recursos para la Salud Mental
1:45-2 pm...Entertainment Breaks/Intermedio 
2-2:45 pm...Working with your CCS Provider (Coordination of Community Services)/Trabajando con su proveedor de CCS (Coordinacion de Servicio a la Comunidad)
2:45-3 pm...Social Security/Seguro Social 
PLUS: Exhibit Hall on YouTube 
Learn about government agencies, service providers, job coaching, benefits, recreation, greater independence 
Además: Sala de Exhibiciones en YOUTUBE
Aprenda acerca de las agencias de gobierno, proveedores de servicios, coaching de trabajo, beneficios, recreacion, mayor independencia 
Need digital accommodations? Foreign language or ASL interpretation? Send your request to transitioningsuccess@gmail.com before October 28, 2020. 
¿Necesita adaptaciones digitales? Idioma extranjero o interpretación ASL?  Envie su requerimiento o preguntas a transitioningsuccess@gmail.com antes del 28 de Octubre. 
---
This event is produced annually by the Transition Work Group, a consortium of adult service providers, government staff, school staff, and family members who are dedicated to improving the transition of young people from disabilities from school to full lives in the community.  Click here to learn more.